The world of office design is constantly evolving, with each passing year ushering in new trends and innovative ideas that reshape the way we work. A key element of modern office design is the false ceiling, which plays a pivotal role in setting the tone for the entire workspace.
We'll explore ten engaging office false ceiling design ideas and upcoming trends that will not only captivate your imagination but also elevate your workplace.
From minimalist elegance to sustainable solutions, these design concepts are set to transform your office into a hub of creativity, productivity, and employee well-being. Join us on this exciting journey through the latest office design trends and get ready to revolutionize your workspace.
10 Office False Ceiling Design Ideas
Here's an elaboration on each of the office false ceiling design trends:
1. Minimalist Elegance
The minimalist approach in office false ceiling design emphasizes simplicity and clean lines. It creates an uncluttered workspace that fosters a sense of calm and focus among employees. Neutral colors and simple shapes contribute to the elegant and timeless aesthetic. This design trend complements various office styles and allows for easy integration of other decor elements.
2. Biophilic Bliss
Incorporating elements of nature into office spaces is a rising trend. False ceilings with wooden panels or suspended gardens bring the outdoors in, creating a harmonious and tranquil environment. This not only improves air quality but also has a positive impact on employee well-being, reducing stress levels and enhancing overall productivity.
3. Tech-Integrated Ceilings
Smart office designs are at the forefront of modern workplaces. False ceilings with integrated LED lights and sound systems offer a high level of customization. Employees can control lighting and ambiance through their devices, providing a personalized work environment that adapts to individual preferences. This seamless integration of technology enhances both functionality and aesthetics.
4. Mixed Materials
Combining various materials like wood, metal, and fabric in false ceiling design adds a dynamic and textured dimension to the office space. This trend allows for a high level of personalization, reflecting the company's unique style and culture. The interplay of different materials creates visual interest and can be tailored to complement other elements of the office decor.
5. Geometry Play
Experimenting with geometric patterns in false ceiling design introduces a visually striking element to the office. Whether it's honeycomb shapes, pyramids, or hexagons, these designs add a touch of creativity and personality. They serve as focal points and contribute to a distinctive and memorable workspace, sparking inspiration and creativity among employees.
6. Acoustic Innovation
Noise pollution can be a significant distraction in office environments. Integrating sound-absorbing materials like acoustic tiles and panels into the false ceiling helps create a more comfortable and focused workspace. This design choice enhances productivity by reducing the impact of ambient noise, allowing employees to concentrate better on their tasks.
7. Suspended Art Installations
Suspending artwork, sculptures, or decorative installations from the false ceiling elevates the visual appeal of the office space. It adds a touch of sophistication and provides an opportunity to showcase the company's values and culture. This design choice not only serves as a conversation starter but also creates a unique and memorable atmosphere for employees and visitors alike.
8. Bespoke Lighting Effects
Custom lighting designs add a distinct character to the office space. LED strips and spotlights integrated into the false ceiling allow for unique illumination patterns. This design choice can be tailored to reflect the company's brand identity and culture. The interplay of light and shadow enhances the overall aesthetics of the workspace, creating a visually captivating environment.
9. Colorful Ceilings
Departing from traditional white ceilings, infusing color into the workspace through the false ceiling can have a transformative effect. Vibrant or pastel hues reflect the brand's personality and can influence the overall mood of the office. This design choice fosters creativity and a sense of identity among employees, making the workspace more engaging and inspiring.
10. Sustainable Solutions
Embracing eco-friendly materials and practices in false ceiling design aligns with the growing focus on sustainability. Using recycled materials and energy-efficient lighting options reduces the environmental footprint of the workspace. This design choice reflects a commitment to responsible business practices, creating a positive impact on both the environment and employee well-being.
Incorporating these Modern office false ceiling design ideas and upcoming trends can not only enhance the aesthetics of your workspace but also improve functionality and employee well-being. Stay ahead of the curve and make your office a place where creativity and productivity thrive!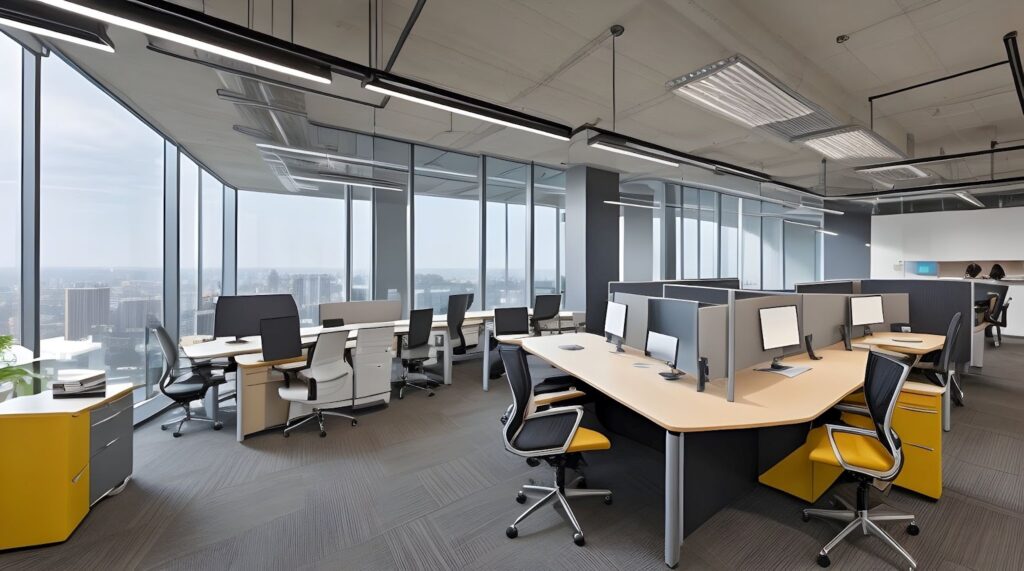 Types Of Best Materials Used:
When choosing materials for your office false ceiling, consider the following options:
Gypsum: Versatile, cost-effective, and easy to work with, gypsum boards are commonly used for false ceilings.
Wood: Natural and warm, wood panels are ideal for a sophisticated and timeless look.
Metal: Metal ceilings offer durability and a modern, industrial aesthetic, perfect for contemporary office spaces.
Acoustic Tiles: For noise reduction, acoustic ceiling tiles made of materials like fiberglass or mineral fiber are highly effective.
Fiber Optics: To create unique lighting effects, consider fiber optic materials that can be embedded into your ceiling design.
LED Panels: LED panels provide energy-efficient lighting and can be integrated into various false ceiling designs.
Plaster of Paris (POP): POP false ceilings are highly customizable and allow for intricate designs.
PVC: Lightweight and moisture-resistant, PVC panels are suitable for areas with high humidity levels.
Glass: Glass ceilings, while less common, can be used to create a sense of transparency and elegance.
Remember to choose materials and designs that align with your office's overall aesthetic and the specific needs of your workspace. Keep an eye on these trends to create a contemporary and engaging office environment for your team.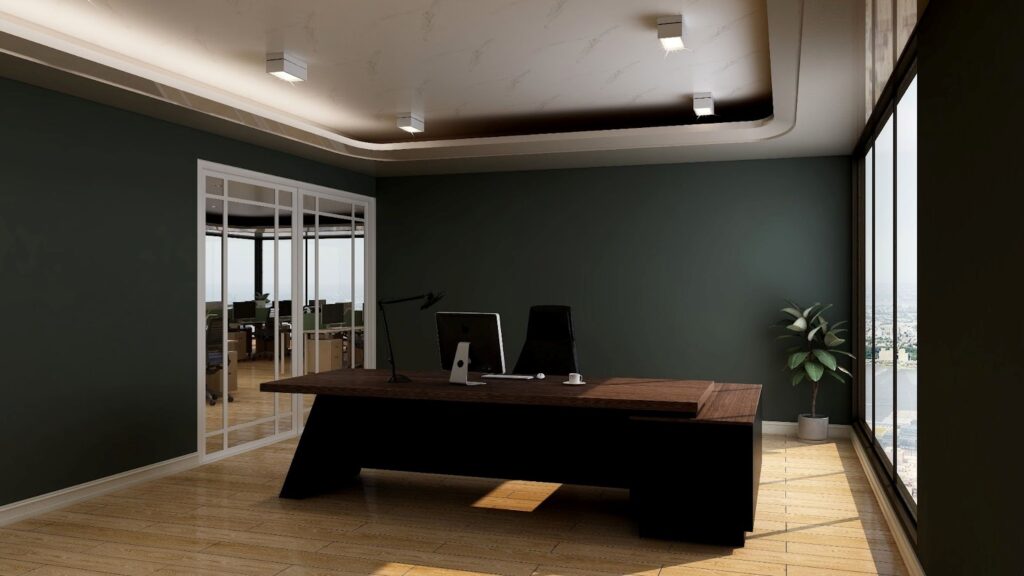 Conclusion
We understands the dynamic world of office false ceiling design, offering a wide range of exciting possibilities. From minimalist elegance to embracing natural elements, the choices are vast. With a selection of materials like gypsum, wood, and metal, combined with modern innovations, you can shape the ceiling of your dreams.
By choosing the right design and materials, Officebanao helps create a workspace that reflects your brand and style, fostering a comfortable and efficient environment for your team. The possibilities for modern office false ceiling designs are limitless, ensuring your workspace remains both functional and aesthetically captivating.