Purthu Beach is an artificial beach on the bank of River Ravi on the border of two states of India- Jammu & Kashmir and Punjab. This huge lake is formed by the construction of Ranjit Sagar Dam and has been accorded as the highest gravity dam on the continent. Mini Goa is in the Pathankot district in Punjab and is the largest hydroelectric project in Punjab. This tourist attraction is known as Mini Goa Pathankot on the lakeside in Kathua district of Jammu & Kashmir state. Tourists are attracted by the Basohli weather here and Atal Setu Basohli Bridge. You can find various entertainments here such as motorboat rides, paragliding, paragliding with motor, horse riding and other sports. The tourists especially come here to spend evenings with their family and friends.
Read More: Sar Pass Trek Yhai
Mini Goa in Pathankot
It is called Mini Goa Punjab because of the landscapes that closely resemble the beaches of Goa. You can find palm trees on the periphery of the enclosed ground and will be surrounded by fresh blue water from three sides. The fresh blue water waves of Purthu Beach produce soothing musical notes and help a lot in calming your mind. The lush green fields enhance the beauty of the beach.
The place is now chosen for pre-wedding shoots too. Tourists who come here to spend the nights, the local people arrange small tents, tea and snacks for them; they can also do cooking here.
How to reach Mini Goa Pathankot
One can easily reach Purthu The Mini Goa; as the nearest airport is the Jammu airport which is about 78 kilometers from the Kathua district that takes 1 hour and 30 minutes of travel time. One has to cross Atal Setu; it connects Punjab with J&K. The Jammu to Purthu distance is 119 km. You can reach within 2 hours and 40 minutes from Jammu.
By rail route, Basohli is only 32 kilometers away and the closest railway station is Kathua Railway Station at Gobindsar. Kathua is connected to Jammu and thus it is easily accessible through Udhampur. You can also find private J&K Tourism buses and taxis to Kathua from national highway 1A.
Pathankot to Mini Goa distance is 12 km. If you are at Pathankot then you have to take a 12 km diversion to visit this beautiful place. Mini Goa Pathankot ticket price is free otherwise you want to do any type of riding then you can pay for the ride.
Ludhiana to Mini Goa Pathankot distance is 202 Km, which will take you around 4 hours to travel by car.
Jalandhar to Mini Goa Pathankot distance is 144 Km and it will take about 3 hours to reach there.
Gurdaspur to Mini Goa distance is 73 Km, It will take about 2 hours to reach there by Pathankot route.
Purthu Mini Goa distance from Amritsar is 149 Km. It takes about 3 hours by car from Amritsar.
Mini Goa to Dalhousie distance is 58 Km, you can cover the distance within 2 hours by car.
If you want to spend some quality time with your loved ones then I recommend visiting here because it gives you an opportunity to enjoy many things like boat rides, river rafting, motor paragliding & more.
The best time to visit Mini Goa in Punjab is between November and March. During this period, you will be able to enjoy all the activities that are offered at this place.
Best things to do in Mini Goa
Motor Paragliding
Horse Riding
Boat Ride
River Rafting
Temple Tour
Camping And Bonfire
Places to Visit Nearby
Basohli Bridge ( Atal Setu Bridge ): It is a 593-meter-long cable bridge and is the first of its kind in North India and the fourth of its kind in the nation.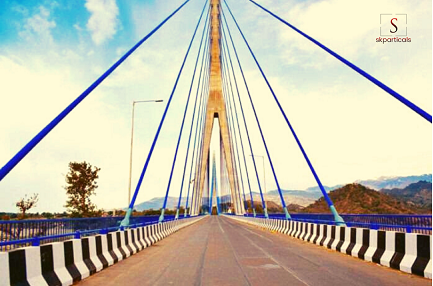 2. Mukteshwar Mahadev Temple Mukesaran: Mukteshwar Mahadev Temple is also known as Mukesaran Mandir. 5500 years old caves that are believed to have been built by Pandavas during their exile. Pathankot to Mukteshwar Dham distance is 23 Km, it will take about 40 minutes to reach the temple to Pathankot.
3. Ranjit Sagar Dam Lake: Ranjit Sagar Dam Lake is located in a very serene location. It is at a drive-able distance from Pathankot and the drive is also very enjoyable.
4. Basohli Fort: It is built on the top of the hill and gives you a glimpse of the ancient town, from an open watchtower of the fort.
5. Local Market: The local market in Basohli is known for the Pahari School of paintings.
Mini Goa Pathankot
It has attracted a lot of tourists in a short span of time and has become one of the most visited and favorite spots of Jammuites. Pathankot Mini Goa is a dream destination for many for its natural beauty, Purthu Lake & mesmerizing views.
Here tourists can enjoy walks in the local area, or take excursions by boat. This place is finally set to get a major boost as the state administration is planning to develop some leisure water sports at the tourist spot. You get a chance to visit Purthu mini Goa, you will immediately fall in love with the lush green pastures and pristine blue water of the lake.